PE
St. Maria's offers exceptional opportunities for pupils to both access a range of physical activities and develop their physical skills. Alongside teachers and specialist coaches delivering high quality skills based lessons, children are also given the opportunity to access alternative sports, such as yoga, lacrosse and fencing within the curriculum.
As part of the extended schools provision, all pupils have the opportunity to access various sporting activities including football, athletics, tag rugby, tennis and multiskills. There are also opportunities for each year group to participate in sporting events and interschool competitions within our Multi academy. These take place regularly throughout the year to allow the children to compete in a variety of sporting activities.
Through the curriculum and extended schools provision, St Maria has previously been awarded the Bronze Award for the School Games Mark and are currently working towards the Silver Award.
To ensure that we are working towards a 'mentally healthy' school, St. Maria's have provided each year group the opportunity to attend a yoga club throughout this academic year, which has been thoroughly enjoyed by the children, and recently held a week focusing on 'finding your brave' for Children's Mental health week. During this week, all year groups, from FS1 to Year 6, took part in a multitude of activities to develop their understanding of a healthy mindset and a positive wellbeing. We will continue to hold specific health weeks in the future to develop the children's resilience as this was greatly received by all staff, pupils and parents.
Being healthy and eating healthy is actively promoted at St Maria's. It is taught alongside PE and in other subjects in all classes to ensure each child gains a true understanding of what it means to be healthy and how to be healthy so that it is embedded at an early age and becomes part of everyday life.
PE can lead to a future in a variety of careers and this year, we ran a sports career club for Y5 and 6 to demonstrate the career options available, as well as a successful careers week. Potential careers related to PE include:
PE teacher / Specialist Sport Coach
Sports Scientist
Sports Media
Sports Medicine
Physiotherapist
Sports Psychologist
Nutritionist
To find out more information on careers in sport, follow: https://targetcareers.co.uk/careers-advice/choosing-your-career/1034364-careers-insports
The Intent, implementation and Impact of our Curriculum – PE.
PE at St Maria Goretti Catholic Academy aims to develop the knowledge, skills and capabilities necessary for mental, emotional, social and physical wellbeing in our children now and for their future. Physical fitness is an important part of leading a healthier lifestyle. It teaches self-discipline and that to be successful you must work hard, show resilience and have the determination to believe that anything can be achieved, aspects which are integral to our ethos at St Maria Goretti Catholic Academy.
Intent
It is our intent at St Maria Goretti Catholic Academy through Physical Education to teach children life skills that will positively impact on their future. We aim to deliver high-quality teaching and learning opportunities, which are not only inclusive and engaging to all children, but also inspire all children to succeed in physical activities and engage in a healthy lifestyle. We aim to teach children how to cooperate and collaborate with others, as part of a team, understand fairness and equity of play and to embed these as life-long values. We would like our children to develop into confident and competent learners across a broad range of physical activities. We aim to achieve this through providing all children opportunities to experience a wide range of alternative sports, not just PE lessons and clubs focused on mainstream sports. We encourage, promote and celebrate participation in physical exercise, both in a competitive and non-competitive environment, along with parental involvement through bootcamp and active family sessions.
Implementation
PE at St Maria Goretti Catholic Academy provides challenging and enjoyable learning through a range of sporting activities. The long term plan sets out the PE units which are to be taught throughout the year and ensures that the requirements of the National Curriculum are fully met.
Pupils participate in high quality PE lessons each week covering two sporting disciplines every half term. Our PE programme incorporates a variety of sports to ensure all children develop a range of transferable skills and a confidence to participate in different sports.
Pupils attend swimming lessons in Years 3, 4 and 6, with boosters provided for those pupils in both Years 3 and 4 who do not meet the expected criteria.
Pupils learn through observation, participation, performance and analysis, building on skills previously taught and through understanding how skills are transferable not only between different sports and activities, but other areas of the curriculum. Through PE lessons and sporting events, children develop teamwork and leadership skills and the ability to analyse and understand where improvements can be made in their performance/work. We provide opportunities for all children to engage in extra-curricular activities before, during and after school, in addition to competitive and non-competitive sporting events. This is an inclusive approach which endeavors to encourage not only physical development and good sporting attitudes, but also well-being.
Impact
Our curriculum aims to improve the well-being and fitness of all children at St Maria Goretti Catholic Academy, not only through the sporting skills taught, but also through the underpinning values and disciplines PE promotes. Within our lessons, children are taught about self-discipline and that to be successful you need to take ownership of, and responsibility for their own health and fitness. Our impact is therefore to motivate children to utilise these underpinning skills in an independent and effective way in order to both live happy and healthy lives and to achieve their very best in all they do.
End of Year PE Newsletter July 2021
Let's get active:
How active can you be – can you set yourself a challenge or design a workout and share it with your family, teachers and friends?
Can you complete this fitness challenge?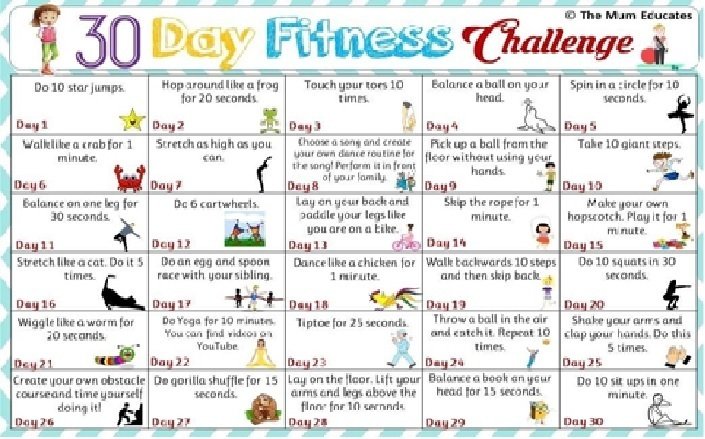 For some more ideas for activities you can do at home, click on the links below: Yoga - https://www.youtube.com/user/CosmicKidsYoga
ASM 'Bringing PE to your front door' - https://www.youtube.com/channel/UCw3adMR45pFcwVUrii4WGKw
Let's get active:
https://www.bbc.co.uk/teach/class-clips-video/physical-education-ks1-ks2-lets-getactive/z72yjhv
Boogie Beebies - https://www.bbc.co.uk/programmes/b006mvsc
Disney Shake UP - https://www.nhs.uk/10-minute-shake-up/shake-ups
Parents, can you set your family a weekly fitness challenge, share a sporting skill with your child/children or learn a new sporting skill together as a family?
For ideas and to help you and your children live healthy and active lives, click the links below:
Promoting healthy eating and physical activity: https://www.nhs.uk/change4life Ideas to help eat healthy and become active as a family:
https://letsmove.obamawhitehouse.archives.gov/sites/letsmove.gov/files/pdfs/TAKE_ ACTION_PARENTS.pdf
Football Fun Day at St Thomas More
26.5.2021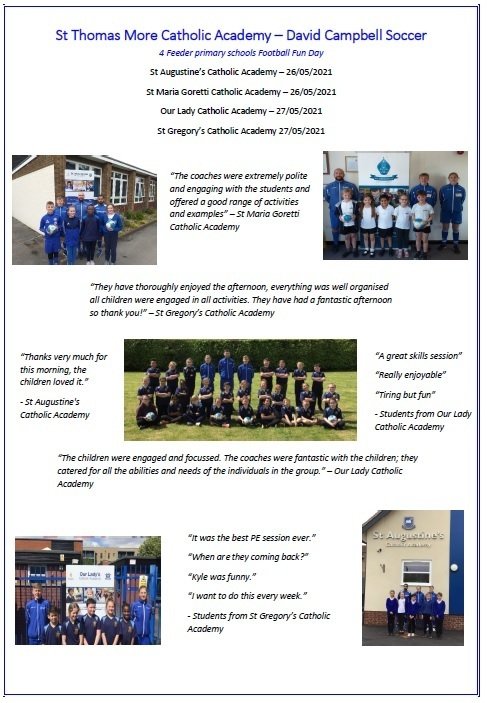 Swimming Data 2022-23
Meeting national curriculum requirements for Swimming and water safety
| | |
| --- | --- |
| The percentage of Year 6 who can travel 8 meters, without touching the floor or side. | 73% |
| The percentage of Year 6 who can swim competently, confidently and proficiently over a distance of at least 25 metres. | 17% |
| The percentage Year 6 who can use a range of strokes effectively for example, front crawl, backstroke and breaststroke. | 0% |
| The percentage Year 6 who can perform safe self-rescue in different water-based situations. | 27% |