Mrs Cooper introducing the class Author
Year 5
Welcome to Year 5 at St Maria Goretti
Year 5 Staff: Mrs Costa, Mrs Bedson & Mrs Stubbs.
Dear Parents - Welcome to Year 5
Settling in Presentation - Autumn 2020
Class Author: Michael Morpurgo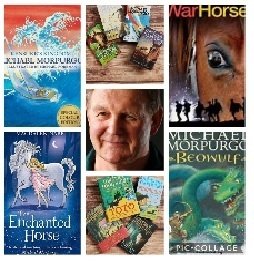 Our Learning Autumn Term 2021/2022
Religious Education
Creation

Miracles and the sacraments of the sick

Advent
English
Driver texts:
The Girl With Ink and Stars by Kiran Millwood Hargrave
Who Let the Gods Out by Maz Evans
Ancient Greeks Why they matter to us by Juliet Kerrigan
Diary

Greek Myths

Fictional Biography (Greek Gods)

Pupil led narrative

Non-chronological reports: Information Text. Leaflets/persuasion

Recount

Argument

Poetry

Letters (formal)
Reading Diaries should be signed by an adult at least 3 times per week. 
Maths
Numbers and the Number System
Read, write, order and compare numbers to at least 1 000 000 and determine the value of each digit .

Count forwards or backwards in steps of powers of 10 for any number up to 1 000 000.

Interpret negative numbers in context, count forwards and backwards with positive and negative whole numbers, including through zero.

Round any number up to 1 000 000 to the nearest 10, 100, 1000, 10 000 and 100 000.

Read Roman numerals to 1000 (M) and recognise years written in Roman numerals.
Addition and Subtraction
Add and subtract numbers mentally with increasingly large numbers.

Add and subtract whole numbers with more than 4 digits, including using formal methods (columnar + & -)

Solve problems involving + - x ÷ and a combination of these, including understanding meaning of = sign
Statistics
Solve comparison, sum and difference problems using information presented in a line graph

Complete, read and interpret information in tables, including timetables.
Multiplication and Division
Multiply and divide numbers mentally drawing upon known facts

Multiply and divide whole numbers and those involving decimals by 10, 100 & 1000.

Identify multiples & factors; find all factor pairs of a number & common factors of 2 numbers.

Know & use the vocabulary of prime numbers, prime factors & composite non-prime numbers.

Establish whether a number up to 100 is prime; recall primes up to 19.

. Recognise and use square numbers & cube numbers and notation for squared 2, cubed 3
Measure
Measure and calculate the perimeter of composite rectilinear shapes in centimetres and metres.

Calculate and compare the area of rectangles (including squares) and including using standard units, square centimetres (cm2) & square metres (m2) and estimate the area of irregular shapes
Science:
Enquiry types- Research, pattern seeking, fair and comparison testing, identify and classify, observe over time
Living things in their habitats – is there a relationship between a mammal's size and its gestation period?

Animals including humans – Are the oldest children in our school that tallest?
Ancient Greece: What was it like to be a Greek Soldier?
Geography:
Locate the world's countries, using maps to focus on Europe

Use maps, atlases, globes and digital/computer mapping to locate countries and describe features studied

Identify and describe how the physical features affect the human activity within a location.
History: Concept Focus - Farming, Settlements, Industry.
Understand chronology

Investigate and interpret the past

To build an overview of the world

To communicate historically
Art:
Sculpture: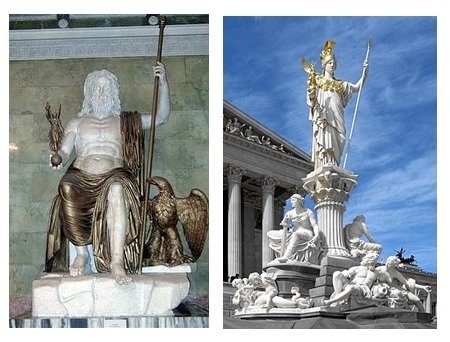 Ancient sculptors: Myron, Phidias, Polyclitus, Praxiteles, Scopas, and Lysippus.

Statues of Zeus and Athena

To create sketch books to record their observations and use them to review and revisit ideas

To improve their mastery of art and design techniques, including drawing, painting and sculpture with a range of materials

Learn about great artists, architects and designers in history.
DT:
Textiles:
Ancient Greek Clothing:

Patterns and seam allowance for clothes.

Use research and develop design criteria to inform the design of innovative, functional, appealing products that are fit for purpose, aimed at particular individuals or group

Generate, develop, model and communicate their ideas through discussion, annotated sketches, cross-sectional and exploded diagrams, prototypes, pattern pieces and computer-aided design
ICT
Purple Mash:
Coding
Design, write and debug programs that accomplish specific goals, including controlling or simulating physical systems; solve problems by decomposing them into smaller parts

Use sequence, selection, and repetition in programs; work with variables and various forms of input and output
Online Safety
Use technology safely, respectfully and responsibly; recognise acceptable/unacceptable behaviour; identify a range of ways to report concerns about content and contact
MFL:
Numbers to 50

Towns and features

Directions

Growing-animals and humans

Christmas songs and stories
PE:
(Autumn 1)
ASM-American Football

Tag Rugby
(Autumn 2)
Music: City Music Service
Strings - Year 5 will select a string instrument to learn to play.
PHSC - Jigsaw:
Being me in my world (Autumn 1)

Celebrating Difference (Autumn 2)
Useful Links
Year 5 and Year 6 Prayers