Careers

Careers Curriculum at St Maria Goretti
If you are interested in joining our group of volunteer career champions and would be willing to talk to our pupils about your business, career or role, please contact the school office.
At St. Maria Goretti, we believe that our pupils should have opportunities to engage with local and national businesses and develop skills related to careers for the future. By inviting visitors from all walks of life to discuss their careers, education and skills into our school and explaining the 'real-world' relevance to the skills taught throughout the curriculum, we aim to raise the aspirations of our pupils.
We recognise that vocations are a calling from God to serve and acknowledge that our pupils will have changing aims and goals for their future. By enabling our pupils to engage with employers and employees from all sectors, we aim to offer opportunities for all pupils to understand the vast opportunities that are available to them in the future.
As part of the Stoke on Trent Opportunities Area, we have joined the Primary Careers Project which aims to 'Improve the choices young people make - Making sure there is a pipeline of highly qualified young people in Stoke-on-Trent who can contribute to a skilled workforce.'
Through the project we will support our pupils in developing the Eight Essential Skills from the Skills Builder Hub: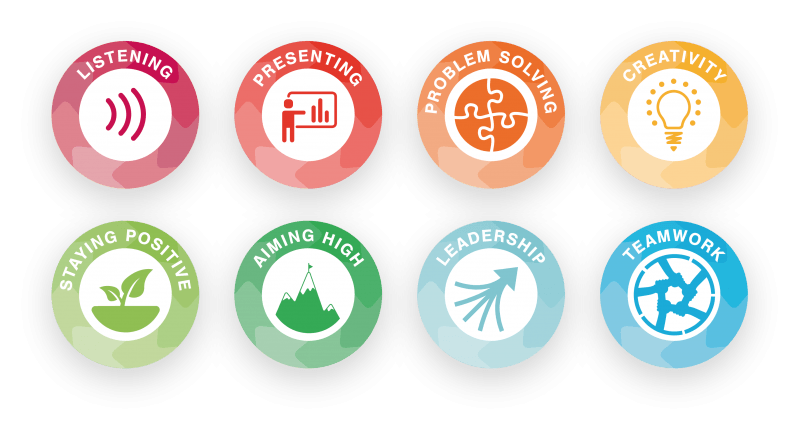 Our Career Partners
Watch Me Learn Careers Sessions
Parents were invited into school to take part in a careers watch me learn session. During this session the parents learnt about the rationale behind why we as a school teach careers through our curriculum. They also got the chance to take part in a variety of careers based activities with their children in class.
Watch me learn - 10th November
Careers in the Curriculum Long Term Plan
Throughout the curriculum each class will have the opportunity to learn about careers and skills related to the topics they are covering in a range of subjects.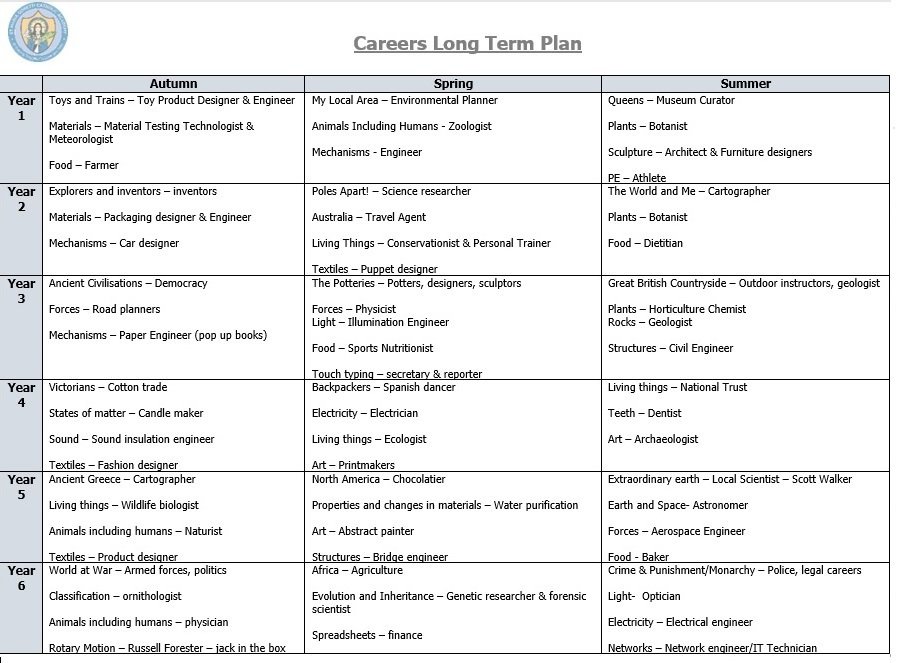 Information for parents
https://successatschool.org/advice/162
https://www.bbc.co.uk/bitesize/careers
https://ncw2020.co.uk/home-learning/
https://www.nidirect.gov.uk/articles/helping-young-people-with-career-choices
Find further information about a range of careers below:
STEM Careers
https://successatschool.org/advicedetails/780/jobs-to-do-with-science
https://successatschool.org/careerzonesummary/20/Energy-Utilities
https://successatschool.org/careerzonesummary/17/Accountancy
https://successatschool.org/careerzonesummary/19/Banking-Finance
https://successatschool.org/careerzonesummary/2/Engineering
https://successatschool.org/careerzonesummary/30/Construction-Property
https://successatschool.org/careerzonesummary/28/IT-The-Internet
https://successatschool.org/careerzonesummary/26/Manufacturing-Industry
Art and Design Careers
https://successatschool.org/careerzonesummary/1/Art-Design
https://successatschool.org/careerzonesummary/33/Publishing-Media
Music Careers
https://successatschool.org/careerzonesummary/37/Performing-Arts
P.E Careers
https://successatschool.org/careerzonesummary/32/Sport-Fitness
https://successatschool.org/careerzonesummary/37/Performing-Arts
English Careers
https://successatschool.org/careerzonesummary/8/Education-Teaching
https://successatschool.org/careerzonesummary/29/Law
Forest School careers
https://successatschool.org/careerzonesummary/40/Agriculture-Environment
Humanities Careers
https://successatschool.org/careerzonesummary/8/Education-Teaching
R.E Careers
https://www.prospects.ac.uk/careers-advice/what-can-i-do-with-my-degree/theology-and-religious-studies
https://www.greatvaluecolleges.net/faq/what-can-you-do-with-a-religious-studies-degree/
MFL Careers
https://htcs.org.uk/wp-content/uploads/2019/10/MFL-Careers-Posters.pdf
PHSE Careers
https://successatschool.org/careerzonesummary/23/Medicine-Healthcare
https://successatschool.org/careerzonesummary/38/Police-Security-Emergencies
https://successatschool.org/careerzonesummary/43/Social-Care
Children's Corner
https://ncw2020.co.uk/activities/