Mrs Cooper introducing the class Author
FS2
Welcome to FS2 at St Maria Goretti Catholic Academy
FS2 Staff: Mrs Davis, Mrs Bird and Miss Hambleton
Our Class Author – Julia Donaldson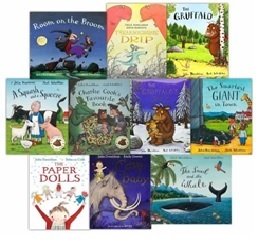 Autumn Term 2021/2022
Religious Education:
Creation, people who care for us, people who help us, Advent, Christmas.
Personal, Social & Emotional Development
We are learning to
Build constructive and respectful relationships.

Express their feelings and consider the feelings of others.

Manage their own needs. (Personal hygiene)
Communication and Language
We are learning to
Understand how to listen carefully and why listening is important.

Learn new vocabulary.

Use new vocabulary through the day.

Describe events in some detail.

Engage in storytimes.
Physical Development
We are learning to
Revise and refine the fundamental movement skills they have already acquired:

rolling

crawling

walking

jumping

running

Further develop the skills they need to manage the school day successfully:

lining up and queuing

mealtimes

Confidently and safely use a range of large and small apparatus indoors and outside, alone and in a group.
Literacy
We are learning to
Read individual letters by saying the sounds for them.

Blend sounds into words, so that they can read short words made up of known letter– sound correspondences.

Read a few common exception words matched to the school's phonic programme.
Mathematics
We are learning to
Count objects, actions and sounds.

Compare numbers

Explore the composition of numbers to 10.

Link the number symbol (numeral) with its cardinal number value.
Understanding the World
We are learning to
Talk about members of their immediate family and community.

Name and describe people who are familiar to them.

Explore the natural world around them.

Understand the effect of changing seasons on the natural world around them.
Expressive Arts and Design
We are learning to
Explore, use and refine a variety of artistic effects to express their ideas and feelings.

Create collaboratively, sharing ideas, resources and skills.

Listen attentively, move to and talk about music, expressing their feelings and responses.

Develop storylines in their pretend play.
Important Information
Outdoor learning is an incredibly big part of FS2.
Please make sure that your child has a jumper, wellies and a waterproof coat in school every day.
We are asking that all children bring in a water bottle to school every day.
Please can this be clearly named and the children will be able to access their drinks
as they want them throughout the school day.
Please ensure that your child is heard reading at least five times a week
and remember to sign the reading diary each time you read with your child.
Please use your child's phonic and tricky word flash cards daily
to help them learn how to recognise each phonic sound and read and spell each tricky word.
Our PE day is on Wednesday.
Children will come to school in their named PE kit with their school jumper.
This will help to reduce the amount of time spent changing
and increase the amount of time they are engaged in physical activity.
Our PE kit is black shorts, a white t-shirt and black pumps.
In colder/wetter weather, children can wear a pair of plain black or blue jogging bottoms.
Pupils MUST use a book bag to transport books and homework to and from school.
Large rucksacks will not be allowed due to lack of storage space.
.
Useful websites:
Phonics Websites:
https://www.phonicsplay.co.uk/
https://www.youtube.com/channel/UCP_FbjYUP_UtldV2K_-niWw
Maths games:
https://www.topmarks.co.uk/Search.aspx?Subject=16&AgeGroup=1
https://www.bbc.co.uk/cbeebies/shows/numberblocks
Tapestry: