Mrs Cooper introducing the class Author
FS2
Welcome to FS2 at St Maria Goretti
FS2 Staff: Mrs Davis, Mrs Bird and Miss Hambleton
50 Recommended Reads
We love 'Reading for Pleasure'
Here are the 50 recommended book titles for your class.
How many of these books will you read by the end of the term?
Mrs Lamb, our English lead, can't wait to find out!
Please click on the image below to tick off the books you have read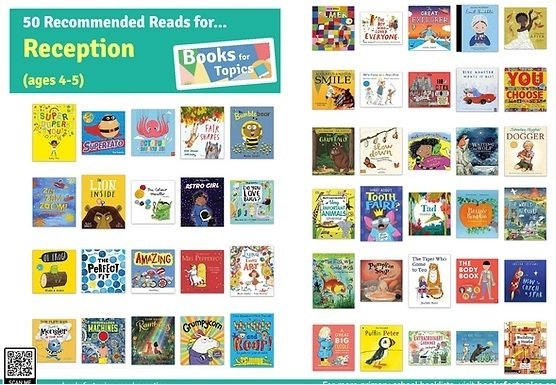 Our Class Author – Julia Donaldson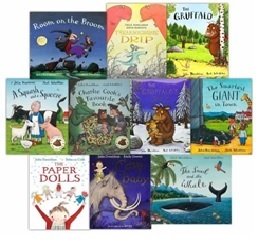 Spring Term 2021/2022
Religious Education:
Christmas, Baptism, Lent, Holy Week.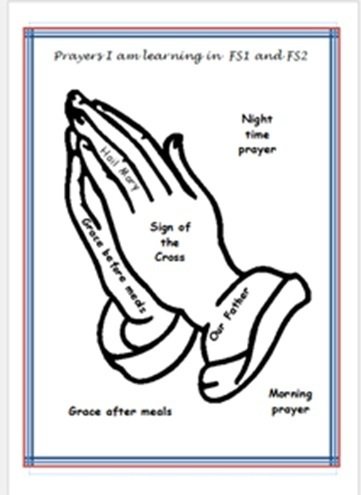 Personal, Social & Emotional Development
We are learning to
Show resilience and perseverance in the face of challenge.
Identify and moderate their own feelings socially and emotionally.
Think about the perspectives of others.
Know and talk about the different factors that support their overall health and wellbeing including; regular physical activity, healthy eating, tooth brushing and being a safe pedestrian etc.
Communication and Language
We are learning to
Learn new vocabulary and use that vocabulary through the day
Understand how to listen carefully and why listening is important.
Ask questions to find out more and to check they understand what has been said to them.
Connect one idea or action to another using a range of connectives.
Describe events in some detail.
Develop social phrases.
Engage in story times.
Physical Development
We are learning to
Revise and refine the fundamental movement skills they have already acquired: rolling, crawling, walking, jumping, running etc
Progress towards a more fluent style of moving, with developing control and grace.
Develop the overall body strength, co-ordination, balance and agility
Develop their small motor skills so that they can use a range of tools competently, safely and confidently.
Use their core muscle strength to achieve a good posture when sitting at a table or sitting on the floor.
Develop the foundations of a handwriting style which is fast, accurate and efficient.
Literacy
We are learning to
Read individual letters by saying the sounds for them.
Blend sounds into words, so that they can read short words made up of known letter– sound correspondences.
Read some letter groups that each represent one sound and say sounds for them.
Read simple phrases and sentences made up of words with known letter–sound correspondences and, where necessary, a few exception words.
Re-read these books to build up their confidence in word reading, their fluency and their understanding and enjoyment.
Form lower-case and capital letters correctly
Spell words by identifying the sounds and then writing the sound with letter/s
Mathematics
We are learning to
Count objects, actions and sounds.
Subitise
Compare numbers
Explore the composition of numbers to 10.
Count beyond 10
Link the number symbol (numeral) with its cardinal number value.
Compare numbers
Recall some number bonds for numbers 0-5
Understanding the World
We are learning to
Comment on images of familiar situations in the past.
Compare and contrast characters from stories including figures from the past.
Draw information from a simple map.
Explore the natural world around them.
Describe what they see, hear and feel whilst outside.
Recognise some environments that are different from the one in which they live.
Expressive Arts and Design
We are learning to
Return to and build on their previous learning, refining ideas and developing their ability to represent them
Watch and talk about dance and performance art, expressing their feelings and responses
Sing in a group or on their own, increasingly matching the pitch and following the melody.
Develop storylines in their pretend play.
Explore and engage in music making and dance, performing solo or in groups.
Important Information
Outdoor learning is an incredibly big part of FS1.
Please make sure that your child has a jumper, wellies and a waterproof coat in school every day.
We are asking that all children bring in a filled water bottle to school every day.
Please can this be clearly named and the children will be able to access their drinks as they want them throughout the school day.
Please ensure that your child is heard reading and telling stories at least five times a week and remember to sign the reading diary each time you read with your child.
Our PE day is on Wednesday.
Children will come to school in their named PE kit with their school jumper.
Our PE kit is black shorts, a white t-shirt and black pumps.
In colder/wetter weather, children can wear a pair of plain black or blue jogging bottoms.
Pupils MUST use a book bag to transport books and homework to and from school.
Large rucksacks will not be allowed due to lack of storage space.
.
Useful websites:
Phonics Websites:
https://www.phonicsplay.co.uk/
https://www.youtube.com/channel/UCP_FbjYUP_UtldV2K_-niWw
Maths games:
https://www.topmarks.co.uk/Search.aspx?Subject=16&AgeGroup=1
https://www.bbc.co.uk/cbeebies/shows/numberblocks
Tapestry: