Mrs Cooper introducing the class Author
FS1
Nursery
Welcome to Nursery at St Maria Goretti
Nursery Staff: Mrs Davies, Miss Clarke, Mrs Bowyer
Dear Parents - Welcome to FS1
50 Recommended Reads
We love 'Reading for Pleasure'
Here are the 50 recommended book titles for your class.
How many of these books will you read by the end of the term?
Mrs Lamb, our English lead, can't wait to find out!
Please click on the image below to tick off the books you have read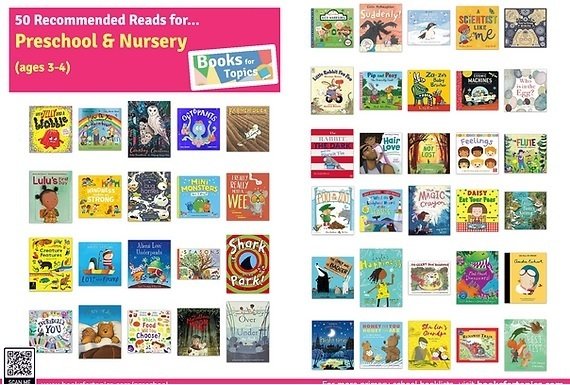 Our Class Author – Mick Inkpen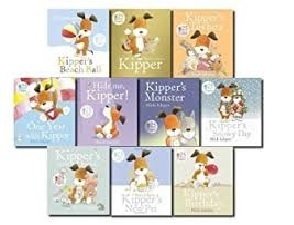 Our Learning - Spring Term 2021-22
Religious Education: This term we will be learning all about:
Creation, people who care for us, people who help us.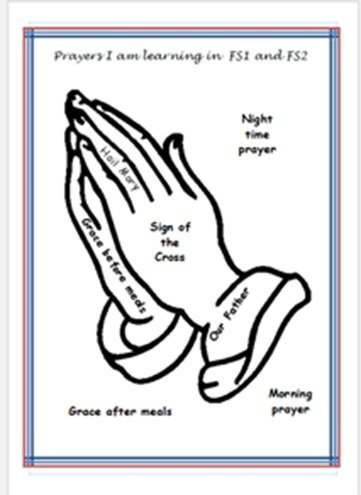 In Spring Term we are learning to:
Communication & Language Development
Enjoy listening to stories and can remember some of what happens.
Use a range of vocabulary.
Understand a question or instruction that has two parts, such as: "Get your coat and wait at the door".
Sing a large repertoire of songs.
Develop their communication and pronunciation.
Use four to five word sentences.
Be able to express a point of view.
Personal, Social & Emotional Development
Select and use resources
Develop their sense of responsibility.
Become more outgoing with unfamiliar people, in the safe context of our setting.
Play with one or more other children, extending and elaborating play ideas
Increasingly follow rules, understanding why they are important.
Talk with others to solve conflicts.
Talk about their feelings using words like 'happy', 'sad', 'angry' or 'worried'.
Be increasingly independent in meeting their own care needs, e.g., using the toilet, washing and drying their hands.
Physical development
Continue to develop their movement, balancing, riding (scooters, trikes and bikes) and ball skills.
Go up steps and stairs, or climb up apparatus, using alternate feet.
Skip, hop, stand on one leg and hold a pose for a game like musical statues.
Use large-muscle movements to wave flags and streamers, paint and make marks.
Start taking part in some group activities which they make up for themselves, or in teams
Choose the right resources to carry out their own plan. For example, choosing a spade to enlarge a small hole they dug with a trowel.
Use one-handed tools and equipment, for example, making snips in paper with scissors.
Use a comfortable grip with good control when holding pens and pencils.
Show a preference for a dominant hand.
Be increasingly independent as they get dressed and undressed, for example, putting coats on and doing up zips.
Literacy
Understand the five key concepts about print:
print has meaning
print can have different purposes
we read English text from left to right and from top to bottom
the names of the different parts of a book
page sequencing
Develop their phonological awareness, so that they can:
spot and suggest rhymes
count or clap syllables in a word
recognise words with the same initial sound, such as money and mother
Engage in extended conversations about stories, learning new vocabulary.
Use some of their print and letter knowledge in their early writing.
Write some or all of their name.
Mathematics
Understand position through words alone – for example, "The bag is under the table," – with no pointing
Discuss routes and locations, using words like 'in front of' and 'behind'
Develop fast recognition of up to 3 objects, without having to count them individually ('subitising').
Show 'finger numbers' up to 5.
Make comparisons between objects relating to size, length, weight and capacity.
Compare quantities using language: 'more than', 'fewer than'.
Link numerals and amounts: for example, showing the right number of objects to match the numeral, up to 5.
Understanding the world
Explore collections of materials with similar and/or different properties.
Begin to make sense of their own life-story and family's history.
Show interest in different occupations.
Plant seeds and care for growing plants.
Understand the key features of the life cycle of a plant and an animal.
Explore and talk about different forces they can feel.
Continue developing positive attitudes about the differences between people.
Expressive Arts and Design
Begin to develop complex stories using small world equipment like animal sets, dolls and dolls houses, etc.
Explore different materials freely, to develop their ideas about how to use them and what to make.
Develop their own ideas and then decide which materials to use to express them.
Join different materials and explore different textures.
Draw with increasing complexity and detail, such as representing a face with a circle and including details.
Use drawing to represent ideas like movement or loud noises.
Listen with increased attention to sounds.
Remember and sing entire songs.
Sing the pitch of a tone sung by another person ('pitch match').
Play instruments with increasing control to express their feelings and ideas.
RE
Christmas,
Baptism,
Lent,
Holy Week
50 Recommended Reads
We love 'Reading for Pleasure'
Here are the 50 recommended book titles for your class.
How many of these books will you read by the end of the term?
Mrs Lamb, our English lead, can't wait to find out!
Important Information
Outdoor learning is an incredibly big part of FS1.
Please make sure that your child has a jumper, wellies and a waterproof coat in school every day.
We are asking that all children bring in a filled water bottle to school every day.
Please can this be clearly named and the children will be able to access their drinks as they want them throughout the school day.
Please ensure that your child is heard reading and telling stories at least five times a week and remember to sign the reading diary each time you read with your child.
Our PE day is on Wednesday.
Children will come to school in their named PE kit with their school jumper.
Our PE kit is black shorts, a white t-shirt and black pumps.
In colder/wetter weather, children can wear a pair of plain black or blue jogging bottoms.
Pupils MUST use a book bag to transport books and homework to and from school.
Large rucksacks will not be allowed due to lack of storage space.
Phonics Websites:
https://www.phonicsplay.co.uk/
https://www.youtube.com/channel/UCP_FbjYUP_UtldV2K_-niWw
Maths games:
https://www.topmarks.co.uk/Search.aspx?Subject=16&AgeGroup=1
https://www.bbc.co.uk/cbeebies/shows/numberblocks
Oxford Owl – videos to help you support your child with their learning at home:
https://www.oxfordowl.co.uk/parent-how-to-videos/
Tapestry: