Magic Breakfast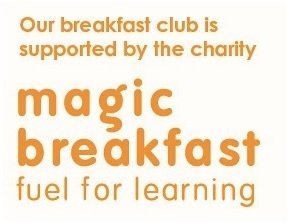 St Maria Goretti is proud to be in partnership with Magic Breakfast, providing healthy breakfasts to our pupils so that they are settled and ready to learn.
Magic Breakfast provides St Maria Goretti with nutritious breakfast food to ensure children start their school day in the best possible way. Breakfast gives children the energy needed for the busy school morning, enabling them to focus on their lessons.
In addition they have undergone bespoke primary aged food hygiene training, gaining their first qualification. Each day our magic breakfast team prepares bagel's and cereal for our 247 pupils. They regularly review pupil numbers, surveying the pupils on their preferences of breakfast choices. Through real life mathematical problem solving and reasoning they work closely with the admin team in ensuring orders and order numbers are accurate.